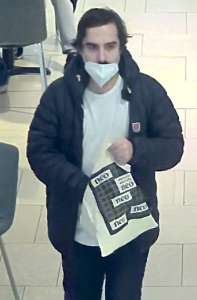 Vancouver – Vancouver Police today released a picture of a man who allegedly committed a string of robberies in and around Vancouver.
VPD began investigating on January 15, after the man allegedly brandished a knife a demanded cash from two businesses in Vancouver – the same day he committed five robberies in Richmond.
The first Vancouver incident occurred around 6:45 p.m. at the Marine Gateway Liquor Store, near Southwest Marine Drive and Cambie Street. The employee called 9-1-1, and the suspect fled before getting any money. About half an hour later, the same man entered the London Drugs at Granville and Georgia streets and allegedly demanded cash.
The suspect is a white man, 25-35-years-old, with short hair, and either a mustache or full beard. He was wearing a black puffy jacket, a white t-shirt, and dark pants.
VPD is working with investigators from Richmond RCMP and other police agencies to solve these crimes.
Anyone with information is asked to contact investigators at 604-717-2541.