Patrol Districts
Vancouver is divided into four geographical areas for our patrol officers. Each district receives service that is tailored to the needs and issues for that area.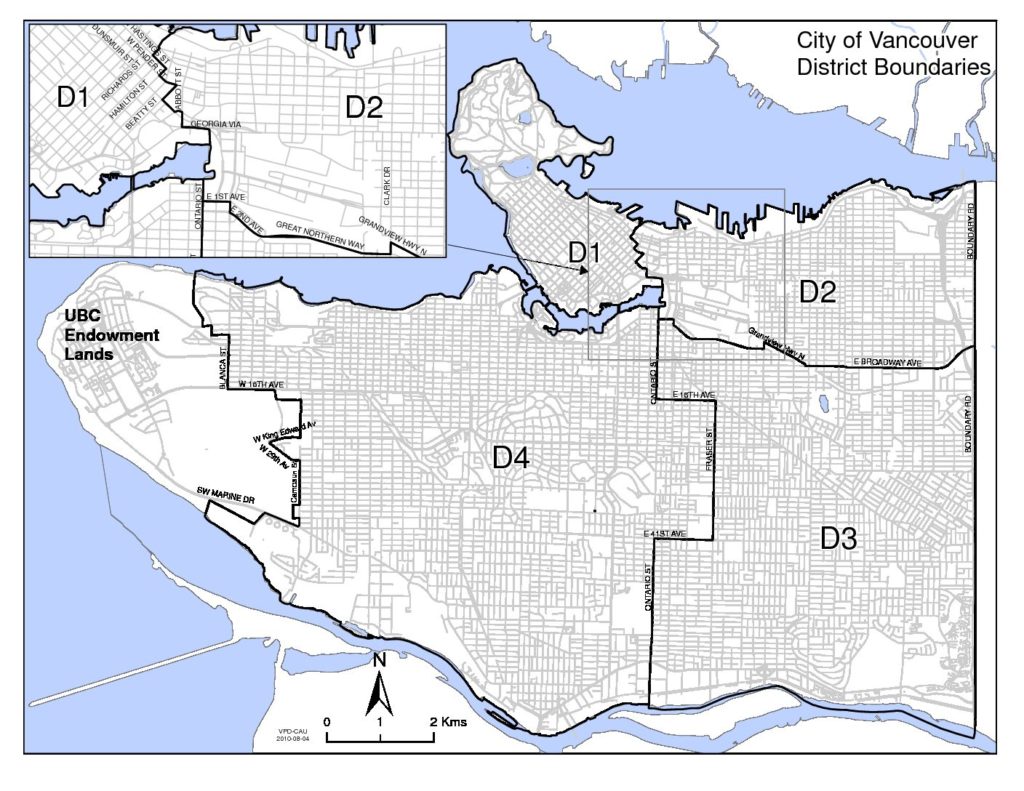 District One
District One includes the neighbourhoods of the West End, Yaletown, Coal Harbour, and the Central Business District of Vancouver. The residential population of District One is approximately 80,000 people, mostly in high-rise apartments. People working, studying, visiting or enjoying downtown services, businesses, and entertainment can swell that number to over 300,000.
District Two
District Two includes the neighbourhoods of Strathcona, Grandview-Woodlands, Hastings-Sunrise, and the Downtown Eastside. Officers focus on problem-oriented policing — identifying people, premises, and areas that are use a lot of police and emergency service provider resources.
District Three
District Three includes the neighbourhoods of Sunset, Renfrew-Collingwood, Mount Pleasant, Killarney, Victoria-Fraserview, and Kensington-Cedar Cottage. The district is a diverse mix of people, incomes, industries, and businesses.
District Four
The largest of the patrol districts includes Point Grey, Kitsilano, Fairview, Dunbar-Southlands, Arbutus Ridge, Shaughnessy, South Cambie, Riley Park, Musqueam, Kerrisdale, Oakridge, and Marpole.
The Musqueam Indian Band is located in the southwest corner of District Four. A service agreement between Musqueam and the City of Vancouver includes policing.
Specialty Units