Vancouver Police receive many calls from business owners and residents about trespassers impacting the safe and lawful use and enjoyment of their property. This can include encampments, substance use, or blocking access for residents, customers, and employees.
Multi-residential and commercial property owners who sign up for the Trespass Prevention Program give police officers the authority to come on to their property and engage with trespassers. It eliminates the need for property owners to contact police and request they attend to enforce any BC Trespass Act infractions.
Many trespassers may not realize they are breaking the law, and officers make them aware of the BC Trespass Act. If they are in need, they are connected with community resources, including shelters and other outreach.
The VPD is dedicated to improving public safety, ensuring property owners enjoy the safe use and enjoyment of their property, and that vulnerable people in our community receive the help they need.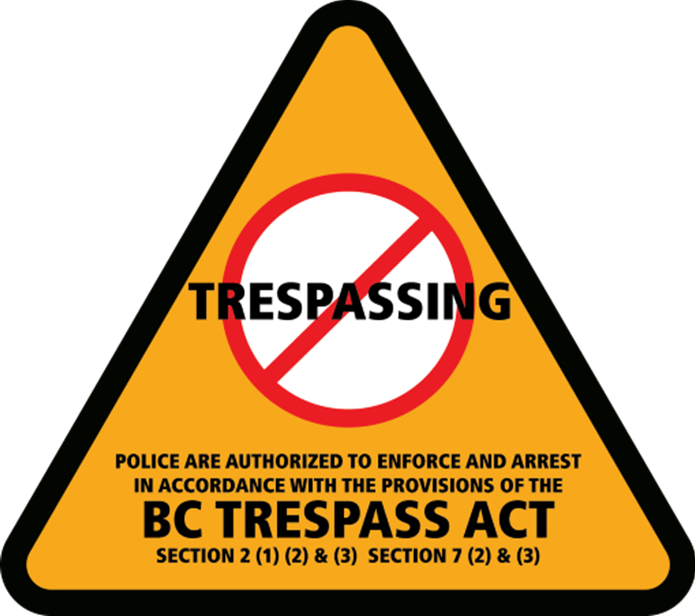 Program Application Process:
1) The first step is to complete an online authorization form, which will give the VPD authority to act on behalf of your property. Please print the completed form, sign it, and return it by email to trespasspreventionprogram@vpd.ca.
2) You will be sent an email confirming your participation in the program. A decal is mailed to you, which must be attached to your building and made visible to patrol officers. Here are the instructions for the decal placement.
3) Officers who witness trespassing incidents on your property will need to confirm there is a decal attached to your property. They can then take any necessary action, which might include offering outreach to individuals in need, providing education about the Trespass Act, and any required enforcement.
Note: Participation in the program does not guarantee regular patrols of your property, as call volumes and available resources may vary. If you see an incident that requires police attendance, please call 9-1-1 in an emergency and 604 717-3321 for non-emergencies.
Contact: For any questions please email: trespasspreventionprogram@vpd.ca.
Frequently Asked Questions:
Why should I sign up?
The program allows police officers to act on your behalf to enforce contraventions under the BC Trespass Act. If we see something happening on your property, such as an encampment blocking a doorway after business hours, we can deal with it so that when you return it will be safe to access.
Is there a cost for this program?
There is no cost to participate in the program. Once registered, we will mail you a decal at no charge.
I live in a single family home. Can I register?
At present, this program is only for commercial properties and multi-residential buildings.
Can I get more than one decal for my property?
Yes, you can request multiple decals. When you return your signed authorization form, please indicate how many you require. For larger properties, we recommend having a visible decal for each entrance.
If I sign-up does it mean you will need access to my property when I'm not there?
Not at all. Most issues will be dealt at the exterior of your property, such as an entrance way, alcove, driveway, open parkade, etc. If an incident is happening inside your business during operating hours, please call police.
Where can I send any questions or concerns?
Please direct all questions and comments to trespasspreventionprogram@vpd.ca.
Program Resources