Despite enforcement, and initiatives like Bait Bikes, more than 2000 bicyles are reported stolen in Vancouver every year.
On the flipside, the VPD recovers roughly 2000 bicycles in a year. Unfortunately, the majority of them will never be returned to their owners, as their serial numbers have not been reported to police, which makes them untraceable. These bikes will end up at auction, but we'd rather return them to their rightful owners.
Vancouver Police, the Vancouver Police Foundation and the City of Vancouver Greenest City initiative have teamed up with Project 529 to spearhead a BC bike registration and recovery program. Today, more than 70,000 bicycles have been registered in Vancouver, and bike theft is on the decline.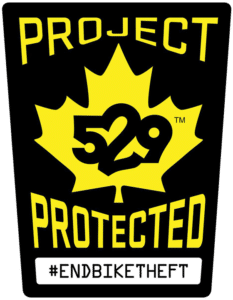 Register your bike with Project 529
Take these two easy steps to register your bike today and help prevent bike crime:
Register your bikes for free on the Project 529 app or website.
Pick up and apply your tamperproof shield to your bike.
Once registered, your bike will be included in the world's largest bicycle database. Not only is this a deterent for thieves, it increases the chance you will have your bike returned if it is stolen.
Make it harder for thieves to steal your bike and easier for you to get your bike back if it is stolen.
Learn more about Project 529 and register your bike today.
Register my bike for free? Where?
You can bring your bike to any of these community policing offices: