Safety tips
small craft must keep well clear of all commercial traffic underway
do not attempt to pass between a tug and tow
no craft powered by oars or sail alone may transit either First or Second Narrows
Coal Harbour is a high activity area for aircraft landing and taking off; operators of small craft are required to keep clear
vessels approaching Second Narrows Rail Bridge be aware of clearance height; contact operator on VHF Ch. 12 to lift bridge
vessels rounding Ferguson Point should observe the West Cardinal Buoy (shallow water lies to the east of this marker)
Areas Restricted by 5-Knot Speed Zone
The 5-knot speed zone in Coal Harbour and False Creek is enforceable under the Vessel Operation Restriction Regulations Sec. 2(5). The VPD can issue a Contraventions Act ticket for any violations, which can result in a fine of $200.00.
Proof of Pleasure Craft Operators proficiency is also required and Contraventions Act tickets can be served for violations of these regulations with a fine of $288.00.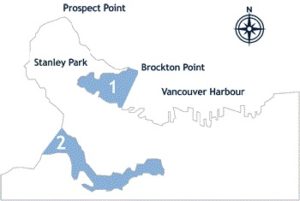 Coal Harbour
Within the area of inland waters bordered by Brockton Point to Burnaby Shoal, and then south from the Burnaby marker (see area 1 on map above), a 5-knot (10 km/h) speed restriction is enforced.
False Creek
In the area lying east of a line drawn from Kitsilano Point 045° (T) across the mouth of the creek, a 5-knot (10 km/h) speed restriction is enforced. (See area 2 on the map above).
Sailing is not permitted in this area unless special permission is obtained from the Harbour Master.
Minimizing Theft From Your Boat
remove all portable property, i.e. sounders, radios, GPS, etc.
mark driver's license number on valuables, record all serial numbers, makes and models on Marine Watch folders
make regular checks on your boat
do not leave security gates ajar
leave radio / light on, onboard when you leave
secure all hatches and windows
put valuables out of sight
consider installing an alarm system
Transport Canada Security Tips
Transport Canada's Marine Security Program has great tips for security awareness:
Resources
Anchoring in False Creek
The City of Vancouver has created this helpful map for boaters interested in anchoring in False Creek. You are required to obtain a FREE permit in order to anchor more than eight hours in the daytime (9:00 a.m. to 11:00 p.m.) or anytime between 11:00 p.m. and 9:00 a.m. the following day.