Our Motorcycle Drill Team provides VIP motorcade escorts in the Lower Mainland, and working with the RCMP Protective Services Section. Rated as Canada's foremost escort team, they escort numerous heads of state, dignitaries, and members of royalty from around the world.
VPD Traffic officers volunteer for the team, in addition to their regular traffic enforcement work. Each year, team members ride their Harley Davidson Electra Glide motorcycles in several parades, entertaining crowds with their exciting displays of riding precision.
The team is also involved in community service and charity fundraising events, such as the Music Therapy Ride, the Westcoast Motorcycle Ride to Live, and the 9-1-1 Memorial Ride. They host KOPS for Kids every December, a fundraising event to give presents and meals to inner-city children.
History
Established in 1954 by Sergeant "Cookie" Ryan and his fellow Traffic officers, the team was originally trained by the late Mr. Trev Deeley, the only civilian to ever ride on the team because of his special constable status.
Displays during the 1950s and 1960s involved acrobatic riding and were a familiar sight at parades and stadium events.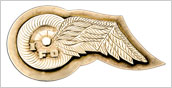 Broken Wing is a dubious honor bestowed on a member who falls during a show.
Book the Drill Team
The Drill team focuses on community events in BC, providing that they meet the space requirements. A closed roadway that is a minimum of 200 metres (650 feet) in length and 20 metres (65 feet) is required to successfully perform their drill maneuvers.
Contact the team by calling 604-717-2997 for further information.