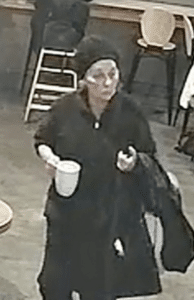 Vancouver – Vancouver Police have released images of a woman who allegedly spat on a stranger in a west-side coffee shop in February, after she confronted a group of men who were speaking Arabic.
Police are treating the troubling incident as a possible hate crime.
"This kind of assault is humiliating and degrading," says Constable Tania Visintin. "Every indication is that the victim was singled out because of his language and ethnicity."
The victim, a 38-year-old Vancouver man, was playing cards and drinking coffee with a group of friends inside a café near West 4th Avenue and Alma Street when they were approached by a stranger around 10:45 p.m. on February 26. After initially engaging in friendly conversation, the woman asked the men what language they were speaking.
"When one of the men told her they were speaking Arabic, the woman allegedly made a racial comment, poured coffee on their table, and walked out," adds Constable Visintin. "She returned later, walked up to the same group, and spat in the victim's face."
Vancouver Police launched an investigation immediately after the incident was reported, but has so far been unable to identify the suspect. Police are now turning to the public for help.
Anyone who recognizes the suspect, or has information about the assault, is asked to call investigators at 604-717-4021.