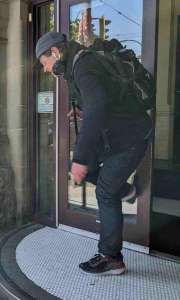 Vancouver – Vancouver Police have released a new picture of the man who allegedly attacked a Chinatown senior with bear spray Friday morning, and are renewing appeals for anyone who knows the suspect to call 9-1-1.
"Officers have been canvassing Chinatown and the Downtown Eastside since the attack occurred, and earlier today obtained a photo taken at Main and Hastings moments before the attack," says Constable Tania Visintin. "We're releasing this new image with hopes that someone will recognize the suspect."
While out for his daily walk last Friday morning, the 87-year-old victim was standing at the bus stop near Pender and Columbia streets when a stranger came up to him, made racist comments, then bear-sprayed him in the face. The suspect fled after the assault and has not been identified.
The suspect was wearing a black jacket, dark-coloured pants, a grey baseball cap, and grey shoes with red trim and white soles. He was carrying a black backpack and had black headphones around his neck.
Anyone who has information or anyone who recognizes the suspect is asked to call investigators at 604-717-4034.