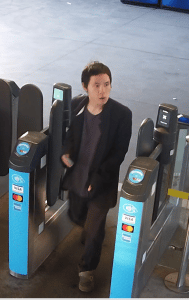 Vancouver- Vancouver Police are investigating the homicide of a 30-year-old Burnaby man, and have released a security photo of the victim taken before his death with hopes someone will have information that could help solve the case.
Kevin Liew was found badly injured near Burnaby Hospital on November 17. Due to the seriousness of his injuries, he was taken to Royal Columbian Hospital, where he died Monday.
Evidence gathered during the investigation has led police to an abandoned residence near 8th Avenue and Renfrew Street.  Vancouver Police homicide investigators believe the offence occurred in this area and have been working for several days to collect evidence.
Police do not believe this was a random crime, and do not believe there is an ongoing risk to the public.
No charges have been laid and the investigation is ongoing.
Investigators have obtained a photo of Liew taken November 14 at a SkyTrain Station in Burnaby. Anyone with information that can assist with the investigation is asked to call 604-717-2500.