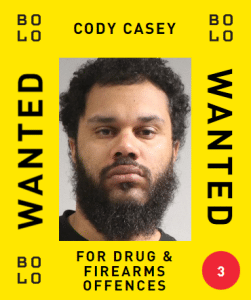 Vancouver – Vancouver Police have partnered with the BOLO program and Metro Vancouver Crime Stoppers to renew an appeal for tips on the whereabouts of Cody Timothy Casey, a man wanted Canada-wide for drugs and firearms offences.
"VPD's Organized Crime Section began an investigation in February 2020, which led to charges against Casey in relation to the production and trafficking of fentanyl, heroin, and cocaine, as well as firearm offences," says Inspector Phil Heard, commanding officer of Vancouver Police Department's Organized Crime Section. "Prior to having to appear for trial in 2022, investigators believe Casey left Canada.  However, we believe there are people in Metro Vancouver who have knowledge of his current whereabouts."
Casey, 36, is six feet tall and approximately 200 pounds. He has brown hair and brown eyes.
"In cooperation with Metro Vancouver Crime Stoppers, the Bolo Program is pleased to offer a reward of up to $100,000 for any information leading to the arrest of Mr. Casey," says Max Langlois, Executive Director of the BOLO program. "If your tip is successful, our top priority will be to give you the reward you deserve, just like we've done numerous times in the past."
Anyone with information on the whereabouts of Cody Casey is asked to call investigators at 604-717-9979 or Crime Stoppers at 1-800-222-8477.